They said a lot of cheesy, touching, wtf, and inspiring things these past 18 years. It's rather hard to pick 3… but here it is.
Eric's quote
Man..he rarely speaks up. But once he does, it's either WTF DOES HE EVEN MEAN (*too alien-ish LOL) or something very inspiring. Like this one he said during Shinhwa The Return's post conference.
It takes time to build a masterpiece. That is why we want to show everyone that when something is old it doesn't make it shabby, proving the sophistication and tradition in our group.
WORD.
Bonus:
One his wtf word…as it's so absurd(ly hilarious) LOL

(pic by shitshinhwasays)
Shinhwa
Universe has google translator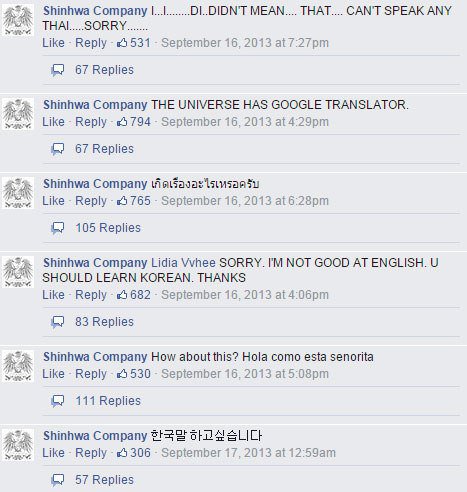 We still don't know who was behind Shinhwa's official account..and who said this, though we highly suspected it was Eric.
It cracks me up so bad…esp because the 'admin' really takes his own word seriously and used google translator to reply fans… =))))))) Ahh..I missed those days when they fool around on SNS LOL.
Dongwan
Shinhwa is not responsible for your lives.
Who said rookie couldn't say such thing?
It was during Shinhwa's first fanmeeting in 1998 he said this. It's legendary and kinda set our boundary as a fan.
During their guerilla date in 2012, he was asked why he said this..he said, it was because he didn't want fans to lose their goals while chasing them (as Shinhwa themselves is also running toward their goals/dream).
Every time you want to abandon your school/work for Shinhwa, please remember this.
Every time you want to fly to see Shinhwa, please remember this.
Every time you want to buy their goods, please remember this.
It saves you lots of money HAHAHAHA